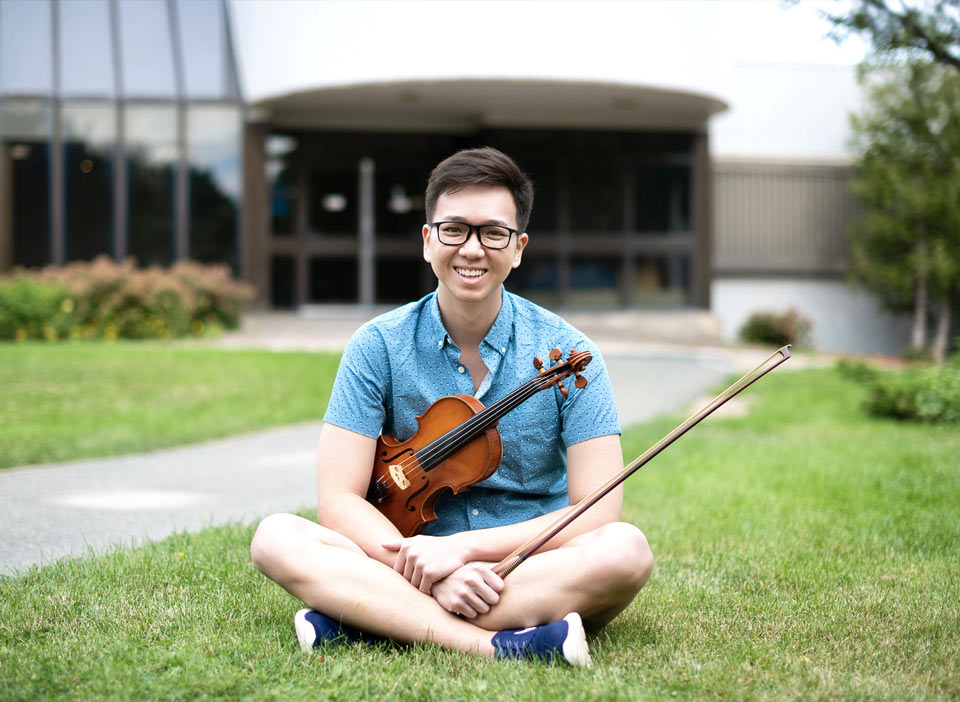 DAVE
Focus areas: pedagogy, technique, Suzuki training, exam and audition preparation, orchestra coaching, designing group activities
Student's level: beginner, intermediate, advanced
Studio location: Tuxedo Park (NE)
Lesson duration and fees:
30 minute lessons: $160 / month (4 lessons)
45 minute lessons: $220 / month (4 lessons)
60 minute lessons: $280 / month (4 lessons)
Dave completed his Bachelor's degree in music at the Pelita Harapan University in Indonesia with Dr. Tomislav Dimov in 2009, after he got the first place on the SPH-International Violin Competition. In 2019 he received his Master's degree in music from the Memorial University of Newfoundland, Canada. He studied with Dr. Nancy Dahn and he was graduated Magna Cum Laude for both degrees.
Starting from his freshman year in his Bachelor program, he was invited to be the violin player with Jakarta Concert Orchestra and Jakarta Simfonia Orchestra. Later on, he's also invited to play with Ananda Sukarlan Symphony Orchestra, Nusantara Symphony Orchestra, Twilite Orchestra, and Jakarta Sinfonietta. While he was in Indonesia, he was the associate concert master and assistant concert master in some of those orchestras. He was also invited to play as a soloist in the beautiful Aula Simfonia Jakarta. Outside of Indonesia, he is also the associate concert master in Baroque Collegium in Singapore, violin player in Brisbane Concert Orchestra, Orchestra Concertino, and Brisbane Philharmonic Orchestra in Australia, as well as in Newfoundland Symphony Orchestra, Watershed Ensemble, and few ensemble groups in Canada. He was chosen to take part in 'III-Красноярский международный музыкальный фестиваль стран Азиатско- Тихоокеанского региона' (Third – Krasnoyarsk International Music Festival) in Russia. Dave and his fellow musicians established few ensembles: Quartet Passioné, Soli Quartet, The Quintets, and few others in Indonesia and Canada. He has also been playing with few great artists: pianist Adam Gyorgy, Sam Haywood, violinist Linus Roth, and Amsterdam Viola Quartet.
Dave has taken master classes from musicians of various backgrounds, and he has been a certified Suzuki Music violin teacher since 2008. He has worked with trainers from Australia, New Zealand, Thailand, Hong Kong, USA, Switzerland, Italy, Taiwan, and Korea.