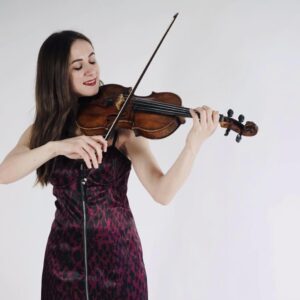 "*" indicates required fields
Sofiia
Focus areas: Technique, RCM exam preparation, theory, ear training, early childhood education
Student's level: Beginner, intermediate, advanced
Studio location: Albert Park (Raddison Heights), SE
Lesson duration and fees:
30 minute lessons: $160 / month (4 lessons)
45 minute lessons: $240 / month (4 lessons)
60 minute lessons: $320/ month (4 lessons)
Sofiia is a Ukrainian violin teacher with a BA in Music / violin performance. She also has a Master's Degree in Musicology, Musical and Theoretical Disciplines from Ivan Franko National University of Lviv, Ukraine.
Sofiia started her musical career at the age of 8 with Professor Yarema Butkovskii, she has taken master classes with the most recognized professors in Ukraine such as Evgenia Skrupchenko, Nadia Yatsyuk and Lidia Futorska. She was part of the Lviv Chamber Orchestra "Polyphony" and the Folk Music and Dance Group "Cheremosh" with which she participated in international tours throughout Europe.
Sofiia has performed at several festivals internationally and she was also a member of chamber orchestra of the city of Monterrey in Mexico while she worked as a violin teacher at one of the most prestigious academies in Monterrey.
She currently plays in the Calgary Civic Orchestra and is a passionate early childhood teacher with a long history as an educator.